Florida: Beaches, Sea & Boats
You can expect sandy beaches that are unparalleled. If you love walking along the beach, you can enjoy the more than 25 Miles of Manasota Keys within 15 minutes' drive. The beaches in Florida are public, and there are sanitary facilities, beach volleyball courts, basketball courts and barbecue to be freely used for all.
As insider tip here can be a beach walk of about 20 minutes from the car park at the end of the Gulf Blvd. recommended to the Stump Pass where dolphins can be seen from the beach. Not only to experience dolphins in the wild is a highlight for all ages, so shells and shark teeth can be collected here too.
About an hour's drive away is Sanibel Island, whose beaches are mentioned in every guidebook. In addition to countless bird species, you can also see manatees, raccoons and, with a little luck, an alligator. Sanibel Island is considered the shell island.
Boca Grande is considered as an island of the "rich and beautiful", which you can reach from the house in about 15 minutes. Again, the white beach with the turquoise blue sea will enchant you.
Depending on whether you are looking for rest, relaxation and recreation, or action and fun, here you can find everything within a few miles. The short video about Boca Grande will make you dream. The Manasota Keys are considered very family friendly, where besides swimming, snorkeling and clam collecting boats and jet skis are also available for hire.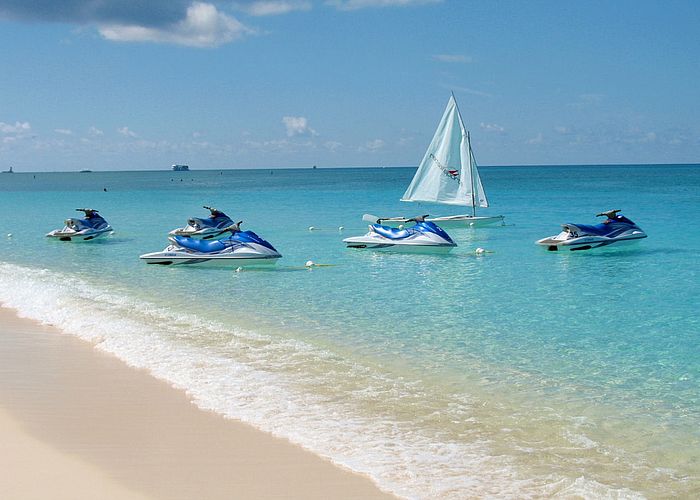 In Florida there is the possibility to rent boats, for which you only must present a driving license for cars and must prove a minimum age of 21 years. Of course, there are also guided tours by boat, but also guided tours with a kayak, where you can be inspired by the variety of flora and fauna in Florida even more. You can also book one of the tours offered with a captain, what will take you to the most beautiful places. From a boat it will not take long, and you will be able to experience dolphins up close.