Amusement park and attractions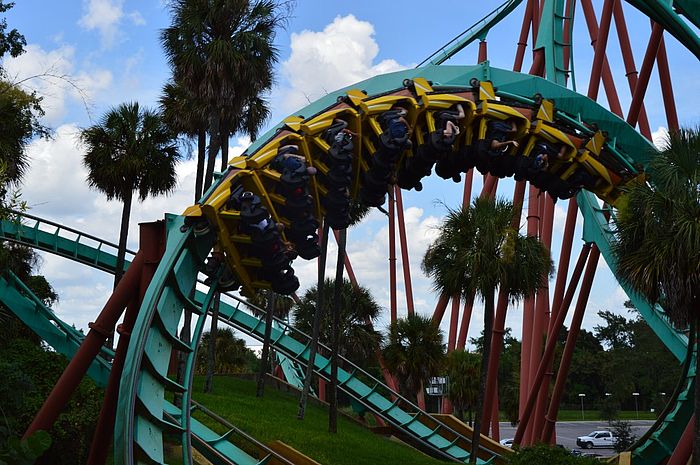 In Florida, there is an infinite number of things to do, suitable for all ages. Among the most well-known attractions are the large Disney parks in Orlando. These can be reached from the house by car in about two and a half hours. An absolute insider tip is Bush Gardens in Tampa. In addition to great rollercoasters, this offers a Serengeti Park, where rhinos, zebras, giraffes, etc. can be observed either from a gondola or a steam train in the wild. In Bush Gardens is not such a dense crowd as in the Disney parks in Orlando, and can be reached in less than an hour and a half. The Legoland Florida with its huge water park is about two hours away from the house.
Furthermore, the crossing of the Skyview Bridge (on the I 275 (Interstate 275)), with a total length of 6663 meters and a height of almost 60 meters above the sea, is worthwhile. Anyone who has ever wanted to watch a baseball or football game live "has the opportunity to fulfill" the dream in Tampa. The Tampa Bay Rays are in baseball and the Tampa Bay Buccaneers are among the top teams in the National Football League.
For nature lovers there are of course a variety of options - the "Edison & Ford Winter Estates" park for example. Thomas Edison built this park, where his researching laboratory was located - among other things, the light bulb can be visited. The park takes its name from the fact that Thomas Edison and Henry Ford were neighbors. Also, in this park is the first swimming pool in Florida to visit.
The Six Mile Cypress Slough Preserve is also worth a visit. This park has a size of over 14 km² and offers a variety of animals that can be observed in natural surroundings. In addition to anhinga's, cormorants, turtles, alligators, Herons, etc., you can enjoy a typical untouched nature and above all peace while hiking on the Boardwalk. In the "neighborhood" is also the Bobcat Range, which offers a 90-minute drive through a completely untouched nature where, as described above, animals can be observed in their original environment.
The quality and appeal of Florida theme parks is also confirmed by the Tripadvisor survey of where the world's top 25 theme parks are listed worldwide. Florida's top nine amusement parks are among the top 19 amusement parks in the world. Not only the 1st and 2nd place went to parks in Florida.
To read and to discover under the following link: Tripadvisor Ranking Parks
For nature lovers, there are many Preserve State Parks in southwest Florida. These can be thought of as small national parks where nature, tranquility and a multitude of animals can be observed in their original environment. Under the following link you will find some parks in the immediate vicinity: Florida State Parks